2017 Fiat 500 Driving Impressions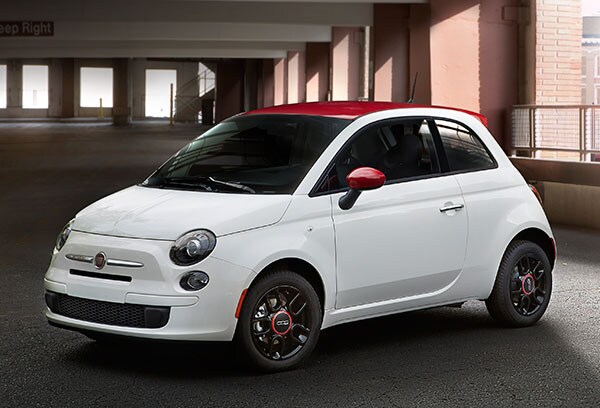 The base 101-horsepower engine is not what we'd call perky. To get the most out of it, sometimes merely what you need, you have to drive it like an Italian. Repeatedly run it to redline. Fortunately it likes that (as does the frisky Ford Fiesta); it's flexible, lively, and even shows a bubbly enthusiasm for such abuse. It doesn't feel harsh up there. In fact there's a lively rasp that appears at 3000 rpm.
But even wringing it to redline (or ringing it to redline) won't get you to sixty miles per hour in any time less than 10 seconds. And if you have a passenger, not even a fat one, think twice about passing uphill on a two-lane. Get a good running start.
The meaty electric power steering sometimes feels like there's no power-assist at all. This isn't necessarily bad, just not direct or nuanced. We got seat time in a Pop with the Sport package, bigger 16-inch wheels and stiffer suspension, and the ride still wasn't harsh.
In the racy Abarth, the wider tires give it more grip and confidence in corners, without affecting the ride The tweaked suspension increases the quickness of the handling and reduces body roll.
The Abarth's 5-speed manual transmission has closer gear ratios than the Pop, and in the first three gears you can really feel it. Your hand feels good on the 5-speed lever, because the shifting is light and precise, but your left foot feels awkward, as the clutch pedal has a long stroke and travels a bit before it grabs. The small footwell doesn't help.
There's a 6-speed automatic transmission available, never mind that it would be a sin to own an Abarth with an automatic. But if you do, there's a sport mode to sharpen the shifting and throttle response.
The gearbox in the Abarth makes you want to hammer the throttle. Which you want to do anyhow, because of the remarkably raucous exhaust note. The Abarth is a car for people who want to be seen, attracting attention not only with its cheeky aggressive song, but with its bodywork and stripes.
* Price valid until midnight tonight.
* Price(s) include(s) all costs to be paid by a consumer, except for licensing costs, registration fees, and taxes. Offer valid on cash sales with no trade-in. IN ADDITION, TO QUALIFY FOR INTERNET PRICING AN APPOINTMENT MUST BE SCHEDULED AND KEPT WITH OUR INTERNET CENTER AND A PRINTED COPY OF THE PUBLISHED PRICE MUST BE PRESENTED IN PERSON TO A SALES REPRESENTATIVE. INTERNET PRICING CANNOT BE USED IN CONJUNCTION WITH ANY OTHER PRICING OR ADVERTISEMENT.